If I could befriend with 1 person from another era, I would choose anyone from the 70's. The era of disco, hippie, political awareness, woman liberty, peace movements, and young souls...all the fun goodies.
...And don't ever forget their fashion! (since it's the content of this blog, obviously).
The revolutions took place in the era were signified through the emerging new trends such as women's edgy outfit and hippy's cultures. Well, instead of listening to my boring history lecture, let's steal their styles and have a little fun of our own, shall we?
Flower bomb
Vivid colors of flower prints significantly took over the decade, influenced by the hippie culture. They showed up on girls' dresses, men's shirts, shades...anywhere that they can be placed, really. Just a mini dress with big flower print can add you a datch of the good old 70's.
Platform shoes
The disco culture alongside with pop and rock music somehow influenced this new trend of colorful platform shoes. They were sparkling, glamorous, and such an attention-seeker pair, but be careful, they were also responsible for a lot of injuries, mostly during the dance, apparently.
Flares/Bell-bottoms Pants
The funky-looking pants were one of the pop culture symbols of the era. Pairing them up with wide belt will give you the female's body silhouette and make you look just like a groovy rockstar.
Hotpants
The very short high-waist shorts were very popular among young rebellious girls due to the fact that the skin-showing affairs weren't so acceptable back in time.
To look exactly like 70's girls, knee socks + kitten heels, or knee boots are the choices to go. But if you want a sweeter look, just a pair of cute flats will easily harmonize the sexiness of the pants.
Head scarf
Get that hippie-who-fights-for-peace look with a vivid head scarf. Be careful, when wearing it, you can either turn into a chic hippie or a sweet the-sound-of-music kinda girl, depending on how you wear it. To get our look, tie the scarf across middle forehead and fold it at the back. This piece can create quite a statement so you won't need much of other busy outfit to complete the look.
Free-spirit attitude!
That's the best part those guys! So wear their spirits. Don't care what others have to say too much if you want to be happy. Think critically, live wisely, while being pretty and chic. Who says pretty and brain can't come in the same package? Don't ever let society manipulate you, promise? ;)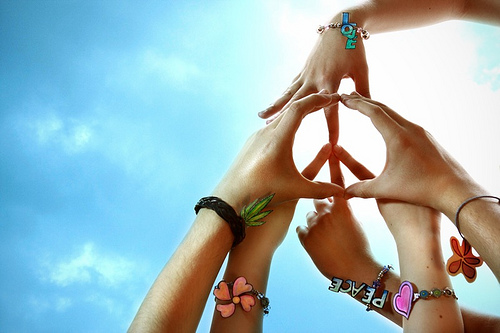 Alright girls, have fun with the fabulous 70's looks and attitudes. I'm off to a graduation trip with my class now and will be back in a few days with updates...and photos!
Stay pretty,